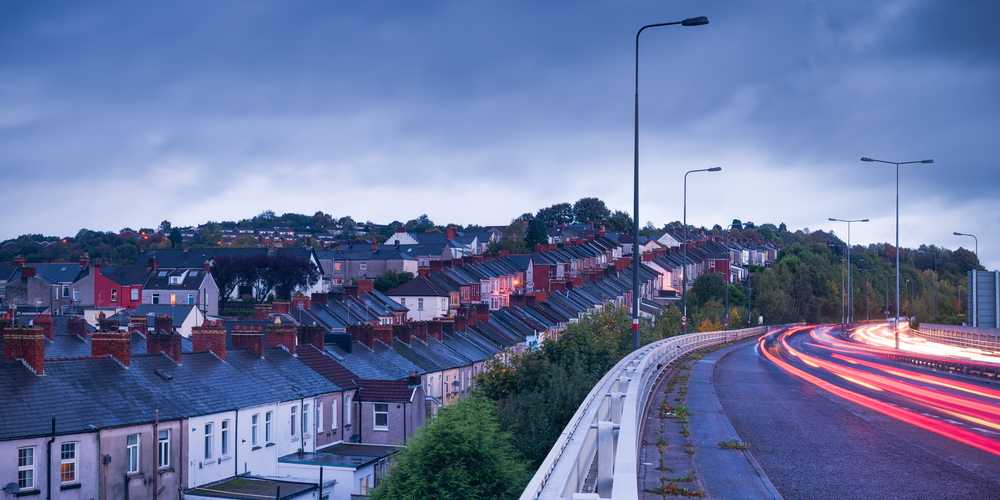 Newport House Prices 2021: How Have Newport House Prices Changed?
Newport in South Wales is regularly regarded as one of the best places to invest in property. This is on account of its rising property prices.
Thanks to inflation and increased demand, house prices have continued to increase across Newport and the surrounding areas in 2020. As of December 2020, the average property price in Newport is £192,971 - considerably less than the UK national average of £239,000. However, going by recent figures, this may not be the case for long.
For an idea of how Newport House Prices have fared in the long term, take a look at our guide below.
Newport House Prices: 1995 - 2020
Land Registry has published data on house prices in Newport for 25 years, with figures dating back to January 1995. Newport house prices have changed a lot over the two-and-a-half decades that Land Registry figures have been published. In fact, those lucky enough to have invested in Newport back in 1995 will have seen the value of their home almost quadruple.
Back in 1995, the average house price in Newport was £49,472 - far from today's figure of £192, 971.
In 1995 the average house price in Newport was £49,472 – around three times the average annual salary of that time. House prices continued to grow steadily over the next five years, rising to £59,841 in January 2000. Then between 2000 and 2005 Newport house prices almost doubled, rising to an average of £138,357 in 2005.
Despite a dip following the 2007 financial crises, when UK house prices dropped significantly, Newport property has continued to enjoy sizeable returns. In fact, house prices in Newport have increased every year over the past decade.
With continued growth in 2020, it appears this trend is going nowhere.
Newport House Prices 2020
According to latest Government figures (published August 2020), the average house price in Newport is £192,971 – rising 3.8% in the last year.
The highest price was fetched by detached houses – £312,500. This was followed by semi-detached houses (£143,375), terraced houses (£137,000) and finally flats (£120,500).
This represents a rise of almost 36% since 2015 and almost 400% since 1995! Indeed, the average house price in Newport is around 3.9 times higher in 2020 than it was in 1995.
Newport house prices have also become more unaffordable over this time. Whereas the average property price in Newport was around 3 times the national salary back in 1995, today it is around 8 times the local average (£23,470)[1]. This has largely contributed to the growing Newport Buy to Let Market.
Newport's Hottest Property Prices
Newport is a desirable place to live for many reasons. However, property prices in some areas have soared past the city average. Using Rightmove data we can reveal the areas in Newport that have experience the highest property price growth over the last five years.
Saint Julians House Prices, Newport
Saint Julians is an area just north-west of Newport city centre. In the past five years, this area has become one of the most sought-after places to live in Newport, with the average property price rising by more than 37 per cent. House prices have risen from £136,104 in August 2015 to £186,747 by August this year.
St Julians enjoys good transport facilities with the M4 running through its northern fringes and Newport Station just 1.5 miles away. The area also benefits from two primary schools, in addition to the St Julian's secondary school. Though the neighbourhood does not have a high presence of employers, it is within easy reach Newport city centre with good leisure options, including Glebelands Park and several shops.
Malpas House Prices, Newport
Malpas is an area just north of Newport city centre, comprises of several housing estates including Hollybush, Malpas Park and Claremont. In the past five years, property prices have risen by 35%, making it Newport's second highest performing area. In 2020, the average house price in Malpas is £205,445, up from £151,952 in August 2015.
Though a bit further out from Newport city centre, Malpas benefits from good transport links with the A4042 and M4 nearby. As most of the housing developments in this area are modern, you also benefit from spacious properties, with front and back gardens and sizeable driveways. Malpas is also served well by a number of both public and private schooling in addition to good bus and cycle routes.
Liswerry House Prices, Newport
Bordering the River Usk, Liswerry is an area just south-east of Newport city centre. This area is Newport's third most sought after neighbourhood with the average asking price rising 34.2% since 2015. Five years ago, the average house price in Liswerry was £151,808. Today it is £203,678, a trend that shows no signs of stopping.
Liswerry is the largest residential area in Newport and is suited to people of all ages, with plenty of leisure options including shops, cafes, restaurants and many cycling and walking routes. The reason why Liswerry has performed so well is likely due to it being perfectly suited to family life. In addition to the many leisure options, the area benefits from a number of well performing schools and easy access to countryside - perfect for weekends with the family.
Looking to Purchase Property in Newport?
If you are looking to buy a home in Newport and are interested in investing the Newport Property Market, contact Freelancer Lets. We have a steady supply of Newport property for sale, with a number of options to suit every purchaser.
---
[1] https://www.ons.gov.uk/employmentandlabourmarket/peopleinwork/earningsandworkinghours/bulletins/annualsurveyofhoursandearnings/2019